DIGITAL TRANSFORMATION OF PUBLIC ADMINISTRATION PROCESSES
We developed a cloud-based platform that supports all public administration processes.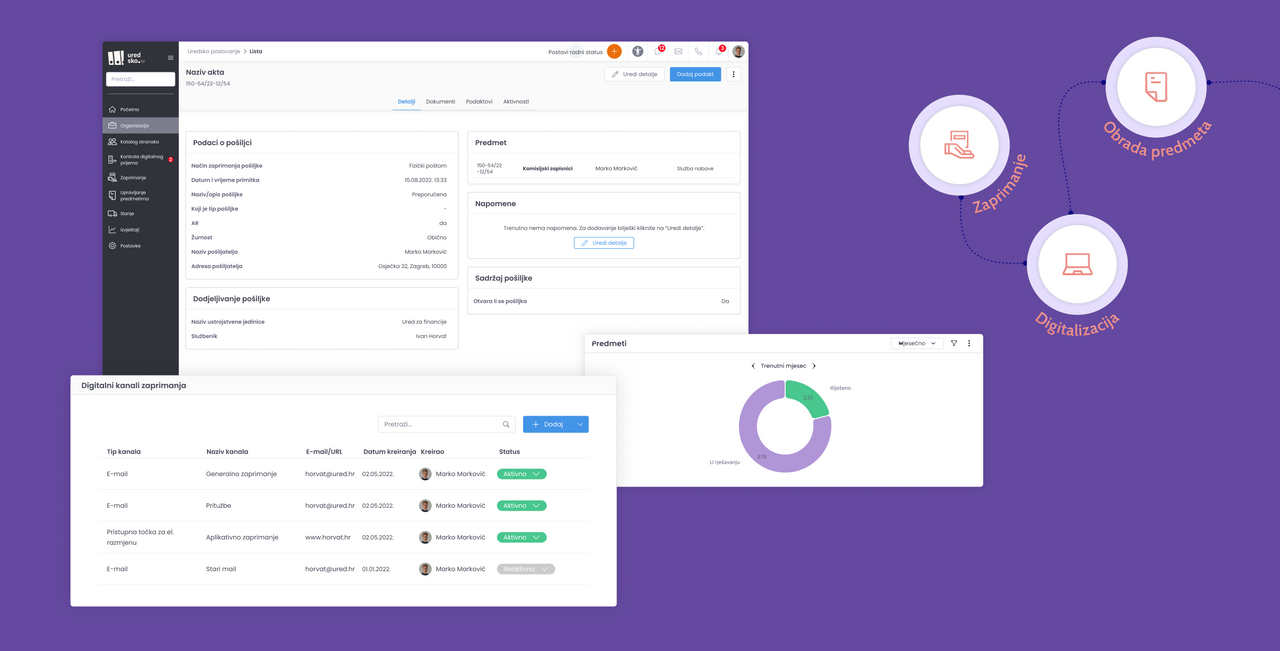 Strategy consulting
System Architecture
Prototyping
UX/UI Design
WEB development
Uredsko.hr is an intelligent system that supports all processes related to office operations. It includes features such as easy document management, text recognition, advanced search capabilities, quick assignment and tracking of activities, and collaboration on documents and cases. Secure receipt, processing, and sending of documents, along with advanced notifications and reporting, significantly save time and enhance efficiency.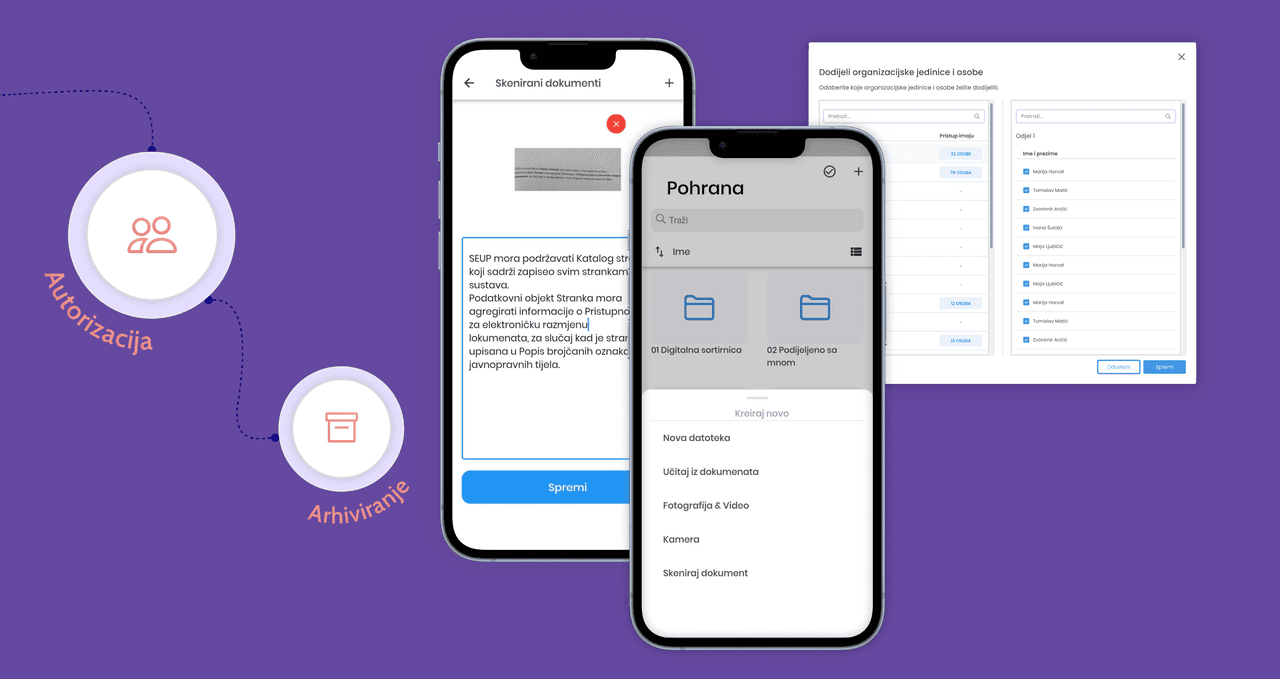 What is included in Uredsko.hr?
The system consists of a range of functionalities organized into modules to facilitate the tracking of processes in office operations. The modules that a user will see depend on their permissions.
Receiving module
This module enables the electronic receipt, assignment, and overview of cases and documents, via email or other systems, allowing for further digital processing. It also provides the option of tracking physical shipments and dispatched letters.
Case management
This module is a comprehensive case management system that improves collaboration and tracks progress across departments, simplifying document assignment with cross-case sharing and advanced search options for efficient public administration processes.
Dispatching
The module fully supports dispatching department's activities by recording and tracking shipment status, both digital and physical.
Mobile application
The system is complemented by an Android and iOS mobile application that provides employees with convenient access to essential information, no matter the time and place.
Organization and reports
Providing an overview of the entire organizational structure with its associated elements allows for monitoring of locations, teams, and employees. It also provides an array of reports that keeps everyone informed depending on their role.
Calendars, deadlines, notifications and reminders
This module offers a customizable calendar for the creation of events at any level of employee or case, complete with real-time notification options. In order to stay on top of important dates and deadlines, users can also create reminders for a large number of events.
Configurability and security
The system is highly customizable, allowing for easy adjustments to meet the organization's changing needs. Users can choose from predefined roles or create custom roles, ensuring access only to the information they need.
Virtual Registration Office
VRO offers a digital alternative to physical Fina offices, allowing clients to access all services remotely. The platform features secure digital signatures and identity verification, ensuring the safety and security of all platform users.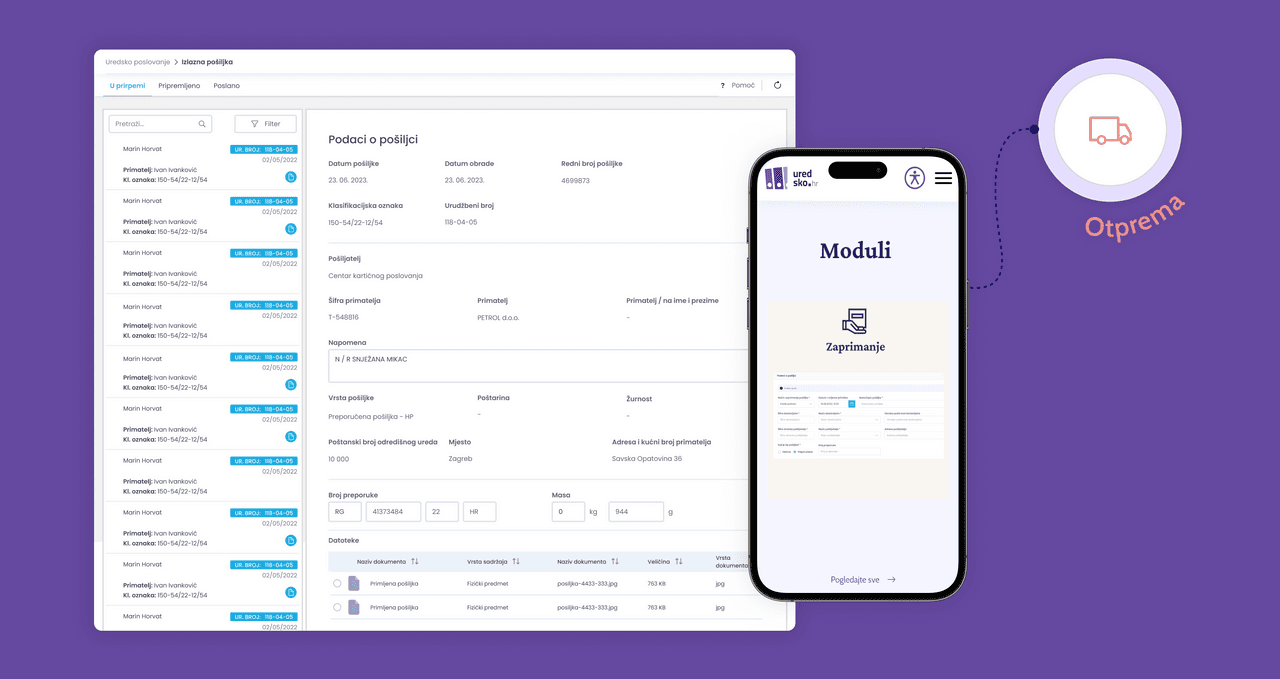 Would you like to learn more about the Uredsko.hr?